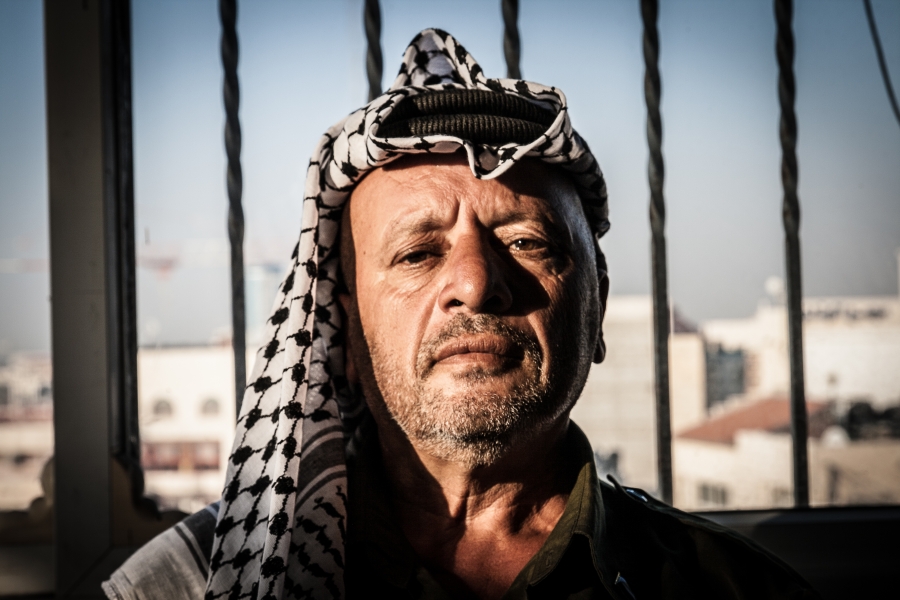 This is Salem Smeirat, he usually sells fruits and vegetables on the streets of Ramallah. But one day the Palestinian Minister of Traffic wanted to give him 10.000 Dollars. Because obviously, he has a certain talent.
The nose slightly crooked, one finger in the air when he speaks and this typical egyptian dialect – when Salem Smeirat starts to imitate Yassir Arafat bystanders pause for a moment and stare at him. Then they laugh. Then they want to have a picture with him. Palestinians, especially the older ones, still love their former leader who died in 2004. Salem Smeirat is the living proof.
He started to act as Arafats double 12 years ago. His kids had told him that he is very similar to Arafat and that he should try to imitate him. The people loved it. Smeirar acted on history festivals as Arafat, shot movies for wealthy entrepreneurs who wanted to show their friends something really special and allegedly he was finally offered 10.000 $ by the Palestinian Minister of Traffic as a reward for acting in front of Arafat himself. Arafat was under Israeli house arrest at this time, he needed distraction. But Salem did not want to get 10.000 $, he declined the offer. He just wanted to meet Arafat.
"He is my father! The heart and mind of the Palestinians", says Smeirat. Imitating Arafat is his way of honoring him. Nobody would need to pay for that, he says. Alas, Arafat fell seriously ill and died within weeks.
Smeirat never saw Arafat. But thanks to his doubling, at least the other Palestinians can see Arafat from time to time again.